French Baba Who Converted To Hindu Giri Has Become A Major Highlight Of Kumbh Mela 2019
9:55 AM
By Tele Tech (nisu)
Get Daily Updates In Email
Preparations of Kumbh Mela has been started with a heavy mix of spirituality, politics, and tourism. The officials are expecting up to 150 million people that will include foreign visitors to bathe at the banks of Ganga, Yamuna, and Saraswati. It is reported that around 4000 hotspots are being set up across the Mela space to provide high-speed Wi-fi for all the pilgrims, domestic visitors, and tourists. Devotees hanging around the banks of the river has been provided with free WiFi facility.
Amid the chaos of Kumbh Mela, a French man is getting all the attention who dressed like a Sadhu or monk in Uttar Pradesh's Prayagraj (previously known as Allahabad) where Kumbh Mela has kick-started. The man named Daniel converted into his religion into Hindu and called "Bhagwan Giri" by his fellows. He is associated with Anand Akhara, a monastic center and is living in India for 30 years, he has learned the Hindi language, a little bit and tries to speak in it too.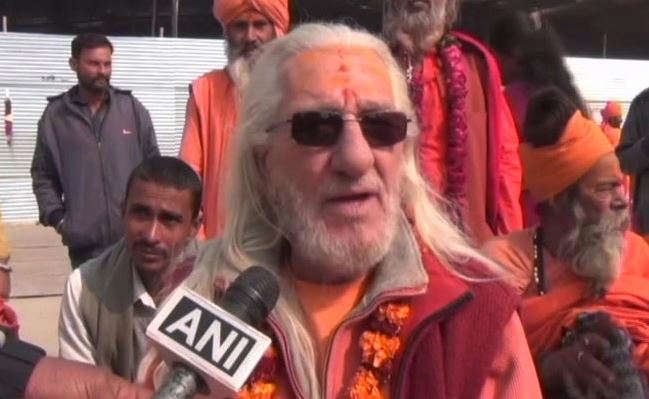 "I love Sanatan dharma. It is very peaceful. We believe in one God. There is only one spirit that has many names," said Daniel Bhagwan Giri.
"Prem hai to sab aanand hai (If there is love, there is joy)," he added.
A follower of Devgiri Baba Maharaj, Daniel Bhagwan Giri wears saffron clothes and turmeric paste on his forehead. He eats with his fellows, whom he calls "gurubhai", and lives the "sadhu way of life" (monk-like life).
"His daily routine involves practicing yoga, dhayan or meditation, and bhajan," said Laxman Giri, his fellow at Anand Akhara.
#KumbhMela2019 | 'Naga baba', the naked Hindu sadhus who only care about the bare necessities of life.
View more: https://t.co/UHX5eSyqAD pic.twitter.com/vi73OvTYvi

— The New Indian Express (@NewIndianXpress) January 14, 2019
The "French Baba" will be attending the Kumbh that continues till March.
Published by Soniya Kaur on 15 Jan 2019